Now this is getting out of hand! I know that EVERYBODY isn't fortunate enough to rock labels and all, (including myself) but these knock-offs are becoming completely ridiculous! I feel that there are somethings you should just wait for in life and an authentic SHOE is one of them! Now lets play a game.... I'm going to put all the LATEST (literally) "knocks" (because thats all they are doing...knocking) on the cover page and under the cut the actual designer shoe will be there... NOW don't cheat! I'm watching you! I want YOU to GUESS the designer!!
PICS AFTER READ MORE.....
LMAO!

Crazy!

OH! The "WILD" Pair.. Must be EXCLUSIVE!

Sighs.

((...They TRIED it.))

iCON :)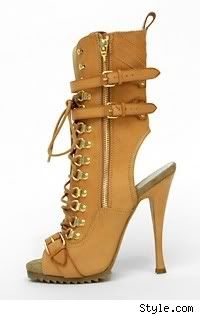 Balenciaga opened-toed boot. NOTICE THE "STYLE.COM".... IT'S NOT A GAME!

Balenciaga Caged Sandal... You all KNOW who rocked these!!

Giambattista Valli...Vicky DOES them BEST!

Christian Louboutin Platform Sling-Back Signature....

Yves Saint Laurent Mary Jane Tribute...