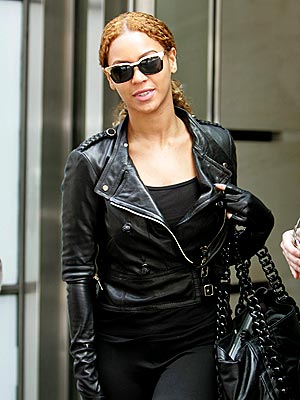 ...The QUEEN tipped out Tuesday in New York with some fingerless gloves on giving me a MK Olsen tease!! OMG.. what if they like merged and Bey became her and like looked and dressed like her! Sighs... I would dry up and hang myself on a cross in front Marc Jacobs on 5th Ave in Soho..lmao. Anywho "BEAT"once gave mother media an all black ensemble and a glove from hell that only added fuel to the fire... why is she covering it up?! And according to sources Solange has been getting bombarded with questions about her sister's alleged wedding! Run girl, you've already been gagged! I love you Solo... but you know the deal! I'm still waiting to see my gown pics...
CLICK TO CATCH A 10 SEC GLIMPSE OF HER "TIPPING"
..... YESSSSSS BEEEEEEEEYYYYY!!!
((...i'll sit til they break the dawn))
iCON :)